GSG demonstrates more automation than ever at Interzum 2023
By Randy Metcalf

Mattress industry trade shows like Interzum Cologne give manufacturers the opportunity to focus on the most valuable processes in their factories and find resources for better production. Some search for an exclusive, shiny new product design to jumpstart new sales growth, but they may find the profits they desire by fine-tuning their current operations to reduce waste in labor and material costs. Global Systems Group (GSG) uses the concentrated time and space available during these few days in May to give those mattress producers the best options for greater efficiencies in their plants.
We focused on these main areas that most bedding producers need to optimize more for greater productivity and margin growth.
Automated Production
XT9 Glue-less Lamination
Quilting Efficiency
Waste-exit Automatic Scrap Control
Automated/De-skilled Cut & Sew
Automated Mattress Production Line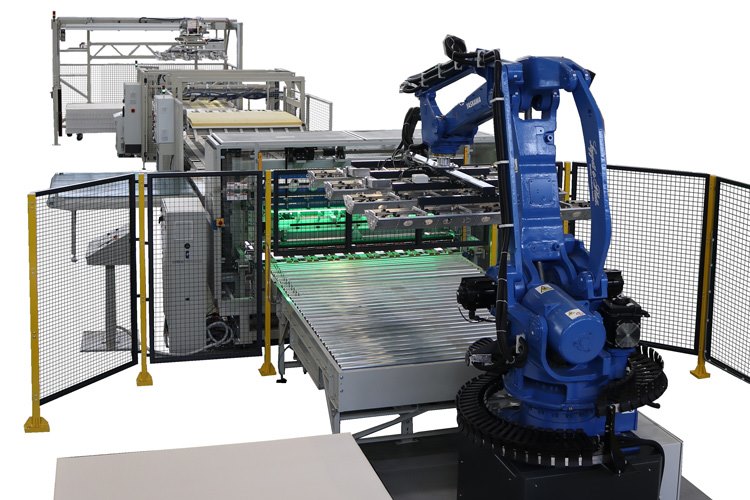 Automation is everywhere – except, unfortunately, most mattress operations. But GSG has a full selection of equipment to add automation to every area of mattress manufacturing. GSG demonstrated a fully automated hybrid-mattress core assembly cell controlled by a single operator. Most components of this cell can be integrated into many other processes for a more fully automated entire production line in the mattress factory.
Reduce labor costs with fewer people needed.
Consistent workflow for more efficient process.
Improve value of final product by reducing non-value-add material handling.
Reduce wasted materials that may occur with human error.
XT9® Glue-less Lamination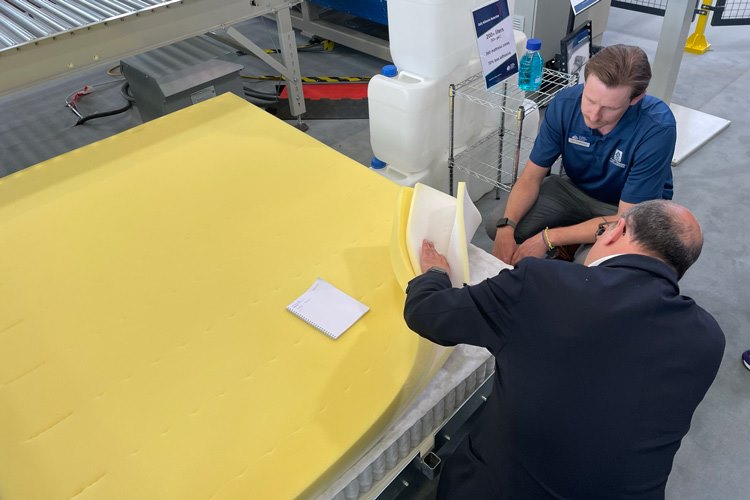 Glue in the mattress production process is messy, expensive, and not the most sustainable option. The new XT9 thread-based lamination process is a cost-effective way to reduce adhesive procedures and improve the overall quality of the final bedding product.
Reduce energy by eliminating energy-intensive glue dryer operation.
Shorter cycle time reduces waste of energy.
Thread cost is up to 95% less than adhesives used in this process.
Create higher recycling value.
Reduce materials waste due to human error.
Reduce chemical content in final product.
Quilting Efficiency
The quilting department is still the heart of most mattress factories, but many manufacturers continue to struggle with slower, outdated equipment and sacrifice a lot of valuable productivity with misaligned labor tasks in this department.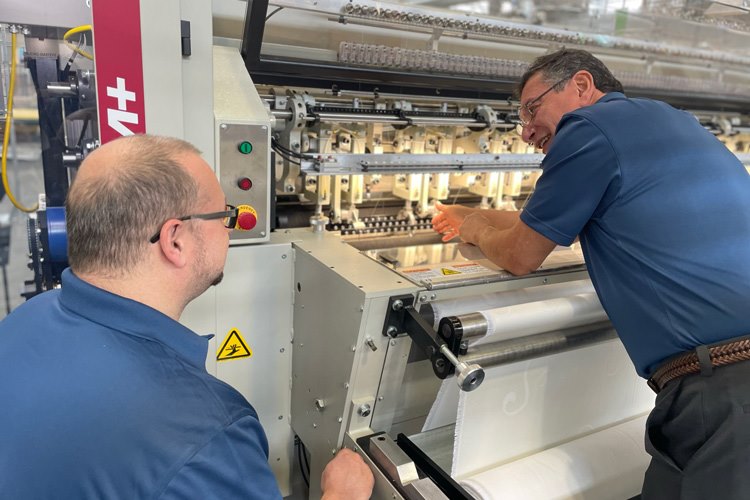 Paragon® M+ and Spectrum® equipped with BatchMode and new AS Next scheduling management software
Reduce wasted materials with BatchMode by reducing crop-out sizes.
Better management of workflow & productivity with AS Next.
Improved productivity with high-speed operations.
Reduce labor with Posi-trim™ thread tail reduction.
Reduce waste of panels rejected by quality control with better quality stitching and pattern definition.
Improve recycling value and reduce labor costs with optional Waste-exit system.
Reduce wasted space and energy with smaller fleet of machines due to greater daily capacity capabilities.
Waste-exit Automatic Scrap Control
Cleaning and removing scrap trimmings from work areas are the most non-value-add work your staff can do in your factory. The automated vacuum-powered Waste-exit system does the work so your employees can spend more time producing valuable product instead of sweeping up scrap.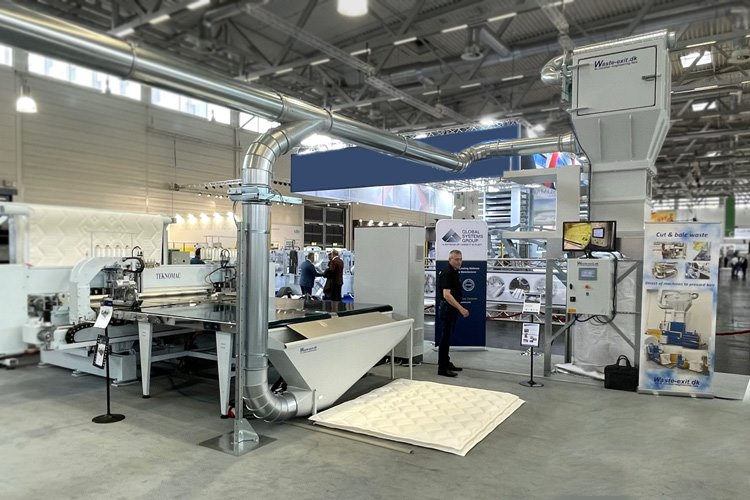 Reduce labor costs with less time devoted to cleaning.
Create greater value in recycled materials.

Less labor involved in gathering scrap.
Optional equipment can sort different material types.

Create a safer workplace by removing clutter from workstations.
Keep operators focused on value-add production tasks, not cleaning duties.
Automated/De-skilled Cut & Sew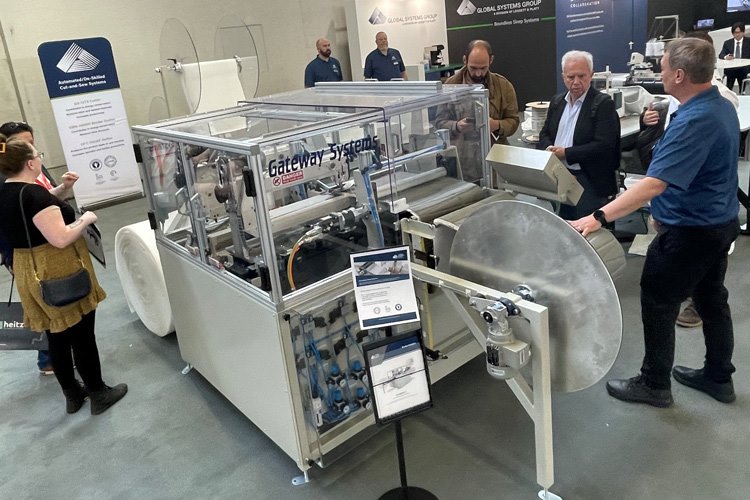 Many factories' Cut & Sew operations are heavily burdened with labor-intensive processes even though simplified systems are now available to reduce dependency on hard-to-find skilled labor.
Compact floor footprint contributes to energy conservation – up to 75% less space than a common manual cutting table.
Automated process reduces labor – operate with less than one full-time operator.
Computer-controlled cutting reduces waste caused by human error.
Automation yields higher productivity than manual cutting.
Compact floor footprint contributes to energy conservation.
Can combine tasks of quilting and border serger machines.
Multi-tasking machine can produce up to 5 product types on the same machine.
Fewer machines = less wasted floor space.
De-skilled operation makes any operator more productive (compared to miter-corner styles).
Faster production than manual miter-corner production means greater energy conservation per piece.
New, highly automated systems from GSG promote more efficient methods to reduce labor, material waste, and make your mattress factory more profitable. Don't wait for the next trade show to find that next "new thing" – contact your local GSG rep and get started on more profitable mattress production today.